If you want a spacious and stylish car, Honda Accord 2022 is the one for you. This sedan is spacious, safe, fast to accelerate and well equipped for driving in Lesotho.
The 2022 Honda Accord came to market very complete and benefits from the updates the company made, including updated exterior styling, suspension adjustment, new interior trim, cell phone integration for optional touch interface. All hybrids come with Accord's Honda Sesing package including a variety of driver assistance and safety features such as lane departure detection and automatic emergency braking.
Interior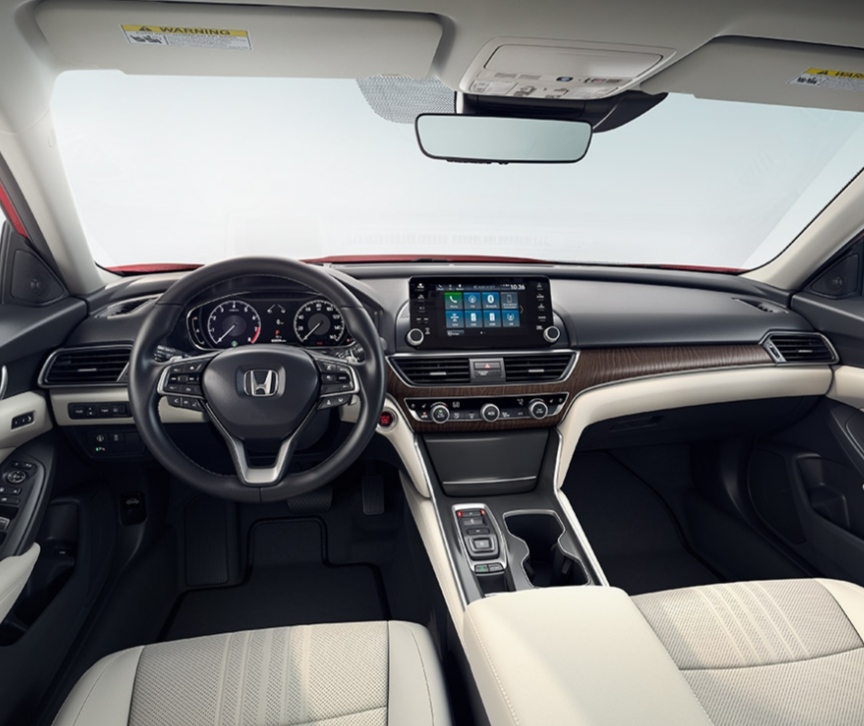 Image Courtesy Honda Official Website
The different Accord trims offer features such as navigation with camera, bi-xenon headlights with dipped-beam headlights, electric leather seats with memory, sunroof, front and rear parking sensors and dual-zone climate control.
The Honda Accord 2022 includes 18-inch alloy wheels, automatic headlights, LED taillights, LED taillights, keyless ignition and door entry, automatic climate control, cruise control, a 7.7-inch center entertainment display, active noise cancellation, Bluetooth, a rearview camera, and a six-speaker sound system with a USB interface, Pandora integration, and an auxiliary audio jack.
Every Honda Accord comes with anti-lock disc brakes, stability and traction control, front head restraints, front seat side airbags. It has a high-quality appearance, its overall design is elegant and simple.
Honda Accord 2022 Engine
Another of the strengths of the Honda Accord has to do with the driving experience and performance. Regardless of whether it is the 1.5 or 2.0-liter turbocharged 4-cylinder engine, getting behind the wheel of this sedan is something pleasurable. Not only does it offer the necessary power for city and highway driving, but it also stands out for its quick acceleration, controlled body roll and comfortable ride.
Image Courtesy Honda Official Website
Its mechanical offer we find the gasoline engine 2.0 i-VTEC 156 horsepower and diesel i-DTEC 2.2-liter 150 horsepower. Both are available with a six-speed manual transmission, although there are also automatic versions with a five-speed gearbox.
One of the most complicated rivals in the segment is the Honda Accord and the Toyota Camry. Undoubtedly, both compete to be at the top of this category. The first seems to achieve a better balance between elegance and sportiness, although the second boasts a more aggressive and radical aesthetic. Likewise, the Accord has the most powerful powertrain thanks to its 2.0-liter turbocharged 4-cylinder engine with 247 horsepower.